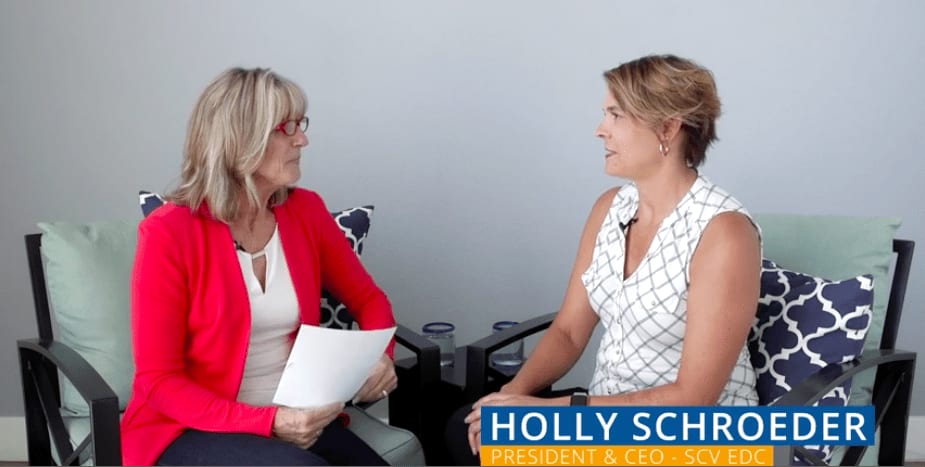 These 5 influential Santa Clarita industries have been hiding right under our noses. Tap into the powerful cluster of businesses that drive our local economy.
Santa Clarita is known for being a great place to raise a family — that perfect little bedroom community just over the hill from Los Angeles. That's not new, right?
But did you know Santa Clarita is also home to a burgeoning business community with companies that lead the nation in filming, aerospace, biotechnology and more?
Believe it: Santa Clarita is a diverse, booming center for business, and it's only getting stronger.
The 5 Santa Clarita Industries You Didn't Know Were Here
A local business development nonprofit called the Santa Clarita Valley Economic Development Corporation (SCVEDC) focuses on supporting targeted Santa Clarita industries that help diversify and strengthen the economy.
Though most local residents may not have heard of it, the SCVEDC works to inform, market and grow local businesses, as well as attract new companies looking to relocate or expand to our community. It's an economic support system that was formed in the wake of the Great Recession.
"The SCVEDC focuses on supporting targeted local industries that will really help diversify and strengthen the economy," explained Holly Schroeder, president and CEO of the local nonprofit. "There are five key industries that we work very closely with."
Aerospace & Defense in Santa Clarita
"We have a lot of aerospace companies here, and that's one of our target industries to bring to Santa Clarita because aerospace is still really strong in Southern California," Holly said.
Many Santa Clarita aerospace companies supply major national and international plane manufacturers like Boeing, Lockheed and Airbus.
"So we have folks who build all the parts of the plane from wings to nose gear and landing gear — all sorts of stuff," Holly said.
We also have organizations that focus on space research and technology, as well as national security and international affairs.
"Strong political support, a highly educated workforce, unique training infrastructure and the presence of many networking and support programs make the Santa Clarita Valley an attractive location for this major industry," Holly explained.
2. Bioscience & Medical Devices in Santa Clarita
"L.A. County is also really growing as a bioscience center, so we have a lot of biotech and medical device companies that support that regional industry, as well," Holly explained.
Our valley has a strong and growing presence of businesses that research, develop and produce important medical devices. Advanced Bionics, for example is the leading-edge manufacturer of cochlear implants in the world, and Neotech Products researches and develops new medical devices specifically formulated for infants in the NICU, PICU and more.
"These companies are right here in the Santa Clarita Valley," Holly said.
3. Advanced Manufacturing in Santa Clarita
"We also have a lot of advanced manufacturing," she continued. "Los Angeles County is still the number one manufacturing output county in the country. Everyone thinks that manufacturing jobs are gone — that's not true."
Our local manufacturing companies produce extremely diverse outputs from electronics to engines to industrial machinery, all of which require advanced manufacturing processes. This makes Santa Clarita a sought-after location that produces high value-added, technical and capital-intensive goods.
4. Digital & Entertainment in Santa Clarita
"Santa Clarita is also a hub for filming because we're located within the 30 Mile Zone (TMZ), or Hollywood Studio Zone," Holly explained.
Being located within the TMZ means Santa Clarita is generally a more cost-effective and highly desired area for studios to choose for filming, especially when the Hollywood area doesn't have exactly what a production needs.
In addition to being located within the TMZ, Santa Clarita is home to more than 30 movie ranches and sound stages, producing everything from online video games to full-length films.
In fact, in one year alone, Santa Clarita issued 526 film permits and recorded 1,380 film days, which generated an estimated $33.4 million in economic impact to our community, according to the City of Santa Clarita's Film Office.
5. Information Technology in Santa Clarita
"Santa Clarita's growing film industry also breeds a lot of digital media, entertainment media and information technology as support companies," Holly explained.
The information technology industry includes local firms that work in software publishing, telecommunications, data processing and hosting, computer design and more. One of the most widely known firms includes Scorpion Internet Marketing, a homegrown company that the SCVEDC helped place into a brand new building when the company was ready to expand.
With a highly educated labor force and state-of-the art facilities that offer room to grow, there's bound to be more growth ahead for information technology, as well as the other four major industries, here in Santa Clarita.
Why These 5 Santa Clarita Industries?
The combination of those five major Santa Clarita industries — plus the corporate headquarters located here — are symbiotic enough that there's relationships between them that strengthen the whole; yet, they're different enough that, theoretically, they won't go through their economic cycles at the same time.
"Even during the Great Recession, for example, the bioscience industry didn't go down," Holly explained. "It may have only grown a little bit, but it didn't decline. That's why part of our mission is to develop the kind of diversity that will help make our economy just a little more resilient."
But it's not just jobs these companies contribute to the local economy.
"The industries you're targeting are bringing dollars into our community, which drives our real estate market and feeds money back into our local economy," said Santa Clarita Realtor Tracy Hauser of the Tracy Team in Santa Clarita. "Those effects can be felt, indirectly, on every part of our community, from our schools to our nonprofits. All these tax dollars that are coming in are literally fortifying our community."
And those contributions multiply.
"Sales tax is a huge part of the local budget, but we also want to make sure we have the companies that are spending money locally," Holly added. "They're making purchases locally. They're buying materials and supplies locally. The film industry, for example, does so much local purchasing when they're filming on location or at our local studios — it's tremendous."
The risk of these jobs, however, is that they can be done anywhere, and we definitely have other states trying to pull California companies away.
"That's why we really focus on being a business friendly community," Holly concluded. "We try to keep our fees and local business taxes under control because that's the competition that we're facing."
Get To Know Your Santa Clarita Partners
Want to know more about the people who brought you this information?
About SCVEDC | Santa Clarita Valley Economic Development Corp.
Though most local residents may not have heard of it, the SCVEDC is a local nonprofit that works to attract, grow, market and inform local businesses and Santa Clarita industries, as well as companies looking to relocate or expand to Santa Clarita.
Comprised of an extremely active, well-connected group of professionals, the organization helps guide economic growth in Santa Clarita. Put simply, it's focused on creating more high-quality jobs in the Santa Clarita Valley, said Holly Schroeder, who has been the President and CEO since the organization's inception.
The organization has had success attracting regional businesses such as Sunkist and Logix to headquarter in our community, bringing new high-paying jobs to our valley. It's also helped local businesses such as Scorpion expand without leaving the community it calls home.
Learn more about the five Santa Clarita industries at
Santa Clarita Valley
.
Meet the Tracy Team | Your Santa Clarita Realtors
If you're looking for a top rated realtor in Santa Clarita, look no further than The Tracy Team. No one knows Santa Clarita real estate better than Tracy Hauser and her team of enthusiastic real estate professionals, or as their clients would say, the top real estate agents in SCV. Whether you're buying or selling, new to the process or a seasoned pro, the Tracy Team will walk you through your SCV real estate transaction with care, professionalism and a healthy dose of fun. Let a top real estate agent in Santa Clarita meet your needs with a smile because we always go the extra mile. We hope you'll look to The Tracy Team for your Santa Clarita real estate agent, so we can show you what it's like to work with trusted professionals who truly care about you.